---
IMPROVE YOUR FULL BODY STRENGTH AND BALANCE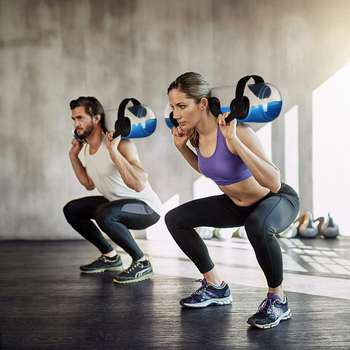 Are you ready for a hard full-body workout? The weightlifting training water bag comes filled with your choice. The weight of the aqua bag is adjustable according to your demand to make it more suitable for you. It is only 2 .8lb when the bag is empty. When the bag is full, it weighs 45lb.
Improve whole-body strength and balance-the training bag allows you to exercise your whole body through the instability of water flow. When the water bag is lifted, the water inside is always unstable. By lifting the fitness water bag above the head, all muscles need to work together to maintain balance and strength, thereby activating and exercising the muscles of the entire body.
It has an Ergonomic handle with silica gel grips to make exercise comfortable. Perfect for indoor workout or carry-on travel. The water gym bag provides you with different weights for each exercise, and promotes muscle growth through unfixed weights, makes your muscles stronger, and provides more interesting exercise methods for fitness enthusiasts and athletes
 
Features:
Multi-purpose: Our fitness water tank uses a transparent PVC shell, so that you can clearly see the water capacity, and is also equipped with the intimate water level to weight indicators, you can view the amount of water that needs to be added in real-time.
Functional:  Get this ultimate training for your core, legs, arms. Different handle positions allow for variety in your exercises. Foot Pump included! When full weighs up to 45 lbs!
Easy to Fill In: 

Open the water injection port cover - press the valve spring switch to inject water - close the valve and inflate with the matching gas nozzle - close the water injection port cover.
Specifications:
15kg: 16 x 75cm
20kg: 20 x 75cm
35kg: 25 x 75cm
Net Weight(g):1100-1400g (+-20g)
Materials: PVC
Features:
💪💪【Portable Sandbag Alternative】Compact and light, The Water Aqua Bag, when empty, is only 3 pounds when folded up. It is easy to take anywhere, and have it ready in minutes with the special pin valve. Push the pin once to open it up for water. Hold it under the faucet until you reach the desired weight. Push the pin again to open it up for air. Attach the pump, give it a few pumps until the Tank is firm, and you're ready to go! Foot Pump is included with our bags! When full weighs up to 49lbs

💪💪【Adjustable Aqua Bag】The Water Aqua Bag can be filled with up to 44 pounds of water. Even experienced athletes only use it with 20 pounds and still get sore. It's all about the movement. In the included brochure we even added an indicator to see how many pounds of water is in the Tank based on the water level height. Kacsoo aqua bags are super tough bags 78X20 cm, filled with air and water. Valve makes it very easy to fill and empty the bag.

💪💪【Full Body Workout & Balance】In contrast to 'dead' weights, this aqua bag with water reacts to your every "live" movement.The sloshing of the water will awake your whole body. Every repetition exercise is a different degree of exercise, Even the small muscles got exercised and become activated . Measure your growth from weight mark! Or fill in full and use as a regular sandbag. an upgraded alternative to sandbags.

💪💪【Interesting Waterbag For Balance】-Just screw the value cap and Push the Button, next use our hand air pump to inflate the aqua bag, then adding water and the ink color you like to the desired level, Finally close the valve. The more water, the more stable it will be. Less water makes it lighter but more unstable/ real-time-weight. Promote muscle strength through this unstable weight. Provide interesting train method for fitness lovers.

💪💪【Convenient Workout Equipment】-Suitable for high intensity interval training such as lifts, swings, curls, step-ups and rows.Easy to Carry up when empty. Provide unstable real-time-weight to exercise. Offer different weights for every movement , then promote muscle growth through this non-fixed weight, make body stronger and healthy, Provide hydrodynamic &hydrostatic exercise.
Package Includes:
1 x bag
1 x inflator
1 x rule paper
This section doesn't currently include any content. Add content to this section using the sidebar.