---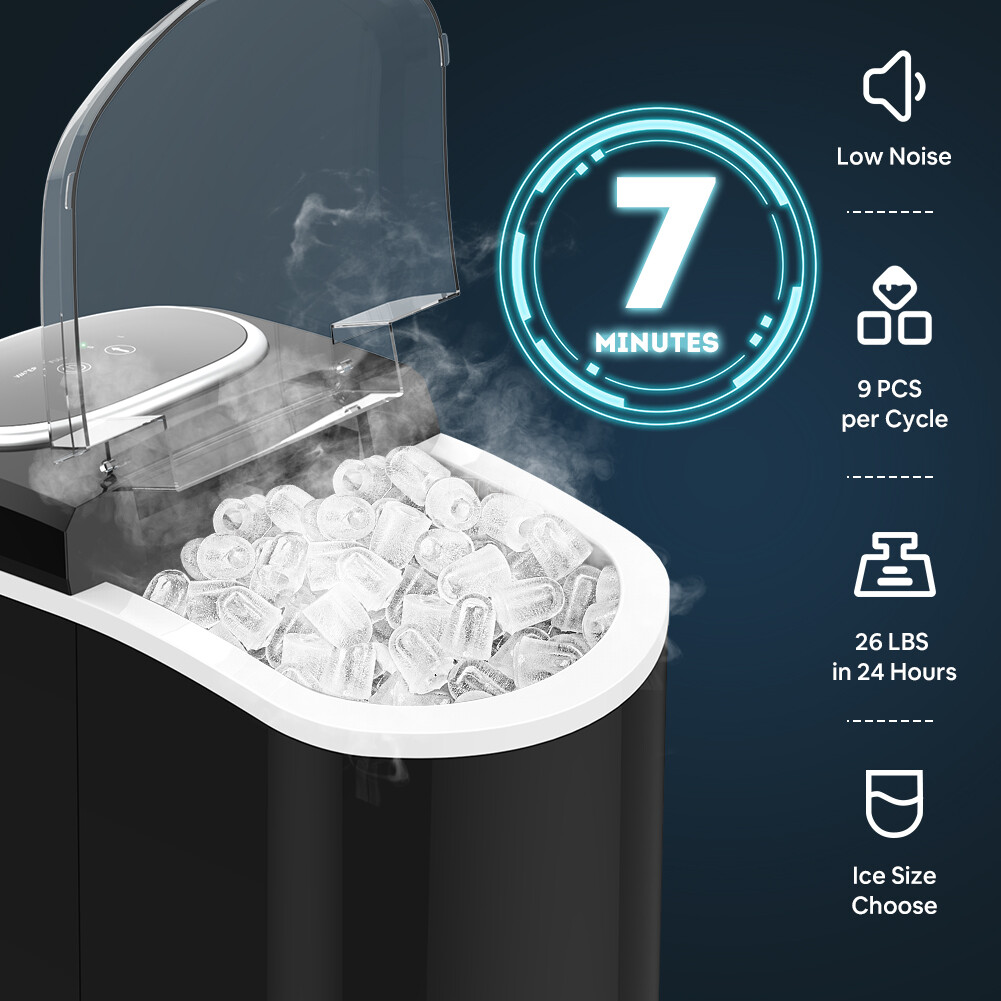 🍹【Quick Ice Making】- This countertop ice maker uses a newly upgraded compressor. Each cycle takes only 8 minutes to obtain 9 ice cubes. It can produce 26.5 pounds of ice in 24 hours. As the use time becomes longer, the production speed will be faster! You can quickly have a refreshing and delicious drink after exercising in the hot summer!
🍹【Self-Cleaning Function】- This ice machine has an automatic cleaning function. You only need to press the on/off button for 3 seconds to start the self-cleaning mode. You don't need to spend time and energy on cleaning.
🍹【Bullet Shape & Available Ice Size】- The ice cubes of the ice maker are available in two sizes, and you can choose different sizes according to different drinks. And chewable bullet-shaped ice cubes are not easy to melt and stick together, which is suitable for cooling drinks or small water bottle openings and food in the hot summer.
🍹【Portable & Compact Design】- The size of the portable ice maker is 10.27 x 14.37 x 13.26 inches. The compact design is effortless to store and carry. It is widely used in homes, kitchens, bars, and offices. And it comes with an ice spoon and a basket to make your life more convenient!
🍹【Policies and Precautions】- The portable home ice maker is guaranteed for one year from the date of purchase. If you have any questions, please feel free to contact us. We will always bring you the best quality service. In addition, after receiving the sonic ice maker, please let the machine stand for 24 hours before turning it on.
Why You Choose it:
☆This ice maker can quickly produce 9 ice cubes in 8 minutes.
☆The self-cleaning feature with a push of a button.
☆The chewable bullet-shaped ice cubes are delicious and refreshing.
☆This portable ice machine is very suitable for homes, kitchens, bars, and offices.
☆We will give you an ice scoop and a basket as a gift.
☆We promise you a one-year warranty and provide you with the best quality service!
Basic Information:
-Packing size: 
12.51 x 16.61 x 15.51 in
-Product size: 10.27 x 14.37 x 13.26 in
-Ice storage capacity: 1.54lb
-Water tank volume: 2.1L
-Refrigerant/Weight: R600a/23g
-Type of thermal insulation: C5H10
Material:
- Surface shell material: plastic
- Internal material: stainless steel
Package Including:
- 1X Icemaker
- 1X Plastic Basket
- 1X Ice Scoop
- 1X Owner's Manual
Attention:
* After receiving the freezer or moving the freezer for a long distance,
* Please let the machine stand for 24 hours before turning it on again.
This section doesn't currently include any content. Add content to this section using the sidebar.